The Vine Club


Welcome to The Vine Club!
Each month our wine experts will be hand curating up to 8 new wines, both reds and whites, based on a different theme. Vine Club members able to make a one-time purchase of as many of these wines as they would like for 20% off of the retail price.
Membership is simple - $25 for a 12-month membership with no minimum or maximum purchases required. You can sign-up at any time. (The 12-month membership starts on the day you sign-up).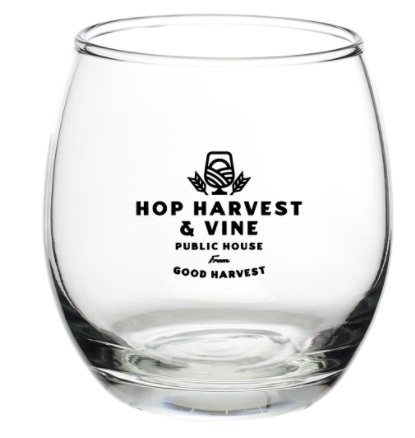 When you join the Vine Club you will receive 2 FREE Hop Harvest & Vine logoed wine glasses as well as other amazing benefits.
Vine Club Member Benefits include:
2 FREE Hop Harvest & Vine wine glasses.

Up to 8 new wines* each month to choose from at a 20% discount from retail pricing (*note: these wines do not qualify for ECO Rewards points).

10% Discount on wine-themed dinners.

5% Discount on all wine purchases.

10% Discount on Hop Harvest & Vine dining every Monday.

Wine tasting events (when able!)

No cork fee Monday thru Thursday for dine-in members – grab a bottle from our wine inventory, pay just retail pricing (less your 5% discount) and we'll waive our $4.99 corking fee.

Monthly Vine Club Newsletter featuring details on the wines of the month, pairings, recipes and more!
Placing Your Order
To order your wines, complete the order form located at the bottom of the page (after the wine selection descriptions). Select which wines you'd like and the quantity and click on the submit button.
Orders are due by the 18th of each month, with your wines available by the first of each month (we will email you when ready to be picked up).
You will receive a call back within 2 business days to confirm your selections and get your credit card information.
If you do have any questions regarding the Vine Club, please contact Christine at 262-544-9380 ext. 18.
May Wine Descriptions
Our May Wine theme is Organic Italian Wines. Orders are due by May 18th.
Indigenous Selections Prosecco – Vine Club Price $11.99 per bottle (retail price $14.99)
Nicely evolving creaminess brings out notes of candied apple and white peach, elegantly balanced with a crisp minerality.
Indigenous Selections Pinot Grigio – Vine Club Price $11.19 per bottle (retail price $13.99)
100% Pinot Grigio from 20-year-old vines planted on a western exposure in rocky and calcareous clay soil at an elevation of 1000-1500 feet. Fermented in stainless steel and aged for 3 months on lees. A delightfully aromatic, nuanced, and crisp Pinot Grigio with notes of white flowers, mineral, green pear, white peach, and a hint of saltiness that leads to a pallet of abundant, fresh fruit that mirrors the aromas and a zesty finish.
Ciacci Piccolomini Toscana Rosso – Vine Club Price $13.19 per bottle (retail price $16.49)
Fruity, lightly herbal and enriched by hints of spices. This wine is ready for drinking, full bodied, quite soft, and balanced.
Villa Calcinaia Chianti Classico Reserva – Vine Club Price $22.79 per bottle (retail price $28.49)
The colour of Villa Calcinaia's Chianti Classico Riserva is rich ruby, whilst the bouquet is mature in its fruit, well blended with the oak. The taste of the wine is soft, velvety. The structure is solid and the wood well integrated. The aftertaste is spicy and persistent.
Malvira Roero Arneis – Vine Club Price $16.39 per bottle (retail price $20.49)
Lifted and fresh on the nose with notes of white blossoms and snappy fruits. On the palate, the wine gives way to stone fruits and hints of melon before finishing with a zip of refreshing acidity. The finish is clean but long and showcases this classic vintage perfectly.
2019 Costello Monaci "Pilunas" Primitivo – Vine Club Price $11.99 per bottle (retail price $14.99)
Broad, ripe black fruit and spice aromas, with notes of pepper, toasty vanilla and Mediterranean scrub. On the palate, the wine has a robust, concentrated character, a firm structure, and small black fruit and licorice notes on the aftertaste.
Marchesi di Barolo Maraia Barbera Monfretto DOC – Vine Club Price $16.39 per bottle (retail price $20.49)
The color is a lively and brilliant dark ruby-red. The perfume is fresh and intense with clean scents of wild berries, currants, and sour black cherry. A light hint of vanilla and toasted oak. The flavor is warm and robust, full-bodied, pleasant, and balanced. This Barbera's sensory attributes make it an outstanding accompaniment for imposing first courses and main-course, meats boiled or roasted.
2016 Nini Negri "Quadrio" – Vine Club Price $16.39 per bottle (retail price $20.49)
A balanced, medium-bodied red, with light, creamy tannins and easy drinking flavors of black cherry and raspberry fruit, dried thyme, and citrus. Minerally finish. Nebbiolo and Merlot.
Please use form below to place your order for our May Wines. If you are interested in joining our Vine Club, you can also use the form below.