The Vine Club


Welcome to The Vine Club!
Each month our wine experts will be hand curating up to 8 new wines, both reds and whites, based on a different theme. Vine Club members able to make a one-time purchase of as many of these wines as they would like for 20% off of the retail price.
Membership is simple - $25 for a 12-month membership with no minimum or maximum purchases required. You can sign-up at any time. (The 12-month membership starts on the day you sign-up).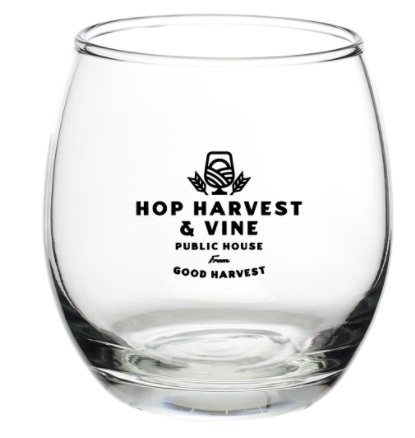 When you join the Vine Club you will receive 2 FREE Hop Harvest & Vine logoed wine glasses as well as other amazing benefits.
Vine Club Member Benefits include:
2 FREE Hop Harvest & Vine wine glasses.

Up to 8 new wines* each month to choose from at a 20% discount from retail pricing (*note: these wines do not qualify for ECO Rewards points).

10% Discount on wine-themed dinners.

5% Discount on all wine purchases.

10% Discount on Hop Harvest & Vine dining every Monday.

Wine tasting events (when able!)

No cork fee Monday thru Thursday for dine-in members – grab a bottle from our wine inventory, pay just retail pricing (less your 5% discount) and we'll waive our $4.99 corking fee.

Monthly Vine Club Newsletter featuring details on the wines of the month, pairings, recipes and more!
Placing Your Order
To order your wines, complete the order form located at the bottom of the page (after the wine selection descriptions). Select which wines you'd like and the quantity and click on the submit button.
Orders are due by the 18th of each month, with your wines available by the first of each month (we will email you when ready to be picked up).
You will receive a call back within 2 business days to confirm your selections and get your credit card information.
If you do have any questions regarding the Vine Club, please contact Christine at 262-544-9380 ext. 18.
Our July Vine Club theme is Spring/Summer French Organic Wines.
Wines are available to order now thru June 18th. Please place your order using the form at the bottom of the page.
Chavignolet Sancerre Rose Vine Club price $22.79 (retail $28.49)
In Elisa Gueneau's very limited production, Chavignolet, you'll find a standout vino. All the delicate qualities of a 100% Pinot Noir Rosé and its terroir are at their peak here. Think robust rose petals, strawberries, citrus, and a hint of your favorite flowers to finish it all off.
Cicada's Song Rose Vine Club price $16.39 (retail $20.49)
Its dazzling light pink color puts one in the mood for this wine's classic Provençal aromas of fresh red berries, melon, and sweet white flowers. The round palate has plenty of sea air minerality and lilting acid woven into the fleshy stone fruit and light raspberry, framed by wild herbs and white pepper. The innovative use of Rolle (also known as Vermentino) and the ancient Tibouren grape for most of the blend sets this apart from other Provence rosés by giving it a savory complexity and invigorating, wind-swept snap. It makes a harmonious pairing with grilled red mullet, flambéed prawns, octopus salad, or fresh pasta with basil and grassy Provence olive oil. Certified organic.
Elicio Rose Vine Club price $11.19 (retail $13.99)
Popular year-round for its easy Provençal style, Elicio Rosé epitomizes the effortless but always compelling nature of truly great rosé. Its bright pink color and nose packed with fresh raspberry and heady flowers lead to a juicy palate that echoes the aromas revealed by the vibrant nose, then throws in tropical and mineral notes to ride out the finish with you.
Gerard Bertrand Naturae Cabernet Sauvignon Vine Club price $14.79 (retail $18.49)
This wine has a dense purple-red colour, the nose reveals spicy aromas of cooked fruit and notes of toast. This Cabernet Sauvignon is fruity and concentrated with powerful aromas of black fruits such as blackcurrants and blueberries. This wine has an elegant, velvety structure and a beautiful finish of pepper and coriander.
Hugel Family "Gentil" White Blend Vine Club price $12.79 (retail $15.99)
James Suckling-Alsace, France- ""A very clean and citrusy white that shows green apples and lemons. Medium-bodied and very dry, this is sleek, tangy and fruity on the finish."" Try pairing with fresh, simply prepared shellfish.
Gerard Bertrand Naturae Chardonnay Vine Club price $14.79 retail ($18.49)
This vintage has a beautiful luminous robe with golden reflections and reveals delicate notes of citrus fruits and white flowers. This Chardonnay is round, harmonious and offers delicious aromas of vanilla and gingerbread. This wine is remarkably elegant and light and has a very nice balance.
Le Charmel Pinot Noir Vine Club price $10.39 (retail $12.99)
This wine shows deep in color, with ruby tints. It has scents of red and black berries mixed with floral notes, together with hints of delicate spices and vanilla. On the palate, it displays aromas of crushed black fruits such as raspberries, blackcurrants, cherries and black-cherry jam. This wine is complex, rich and long with well integrated tannins. This is a gorgeous food wine and works well with roast meats, tuna and cheeses.
Stephen Aviron Beaujolais Villages Vine Club Price $11.59 (retail $14.49)
This Gamay is made from 50+ year old vines which give it an extraordinary concentration of fruit and a true essence of the terroir of the region. The wine shows itself to be full of complexity and charm at the same time. It is so full of freshness and easy-drinking with fruity and floral notes of strawberry and spice. Pair with just about anything or enjoy on its on as an aperitif.
If you are not a Vine Club member and are interested in joining our Vine Club, you can also use the form below.