Good Harvest Annual Harvest Health Fair

Join us as we celebrate our 15th Annual Harvest Health Fair!
Saturday, September 28th, 11 AM-3PM
We are happy to be hosting a wonderful combination of local health & wellness professionals who support harmonious living and well-being. You'll have several opportunities to learn about alternative physical, mental, and spiritual health care solutions as well as participate in free mini services or demos.
In addition to the Health Fair activities, Good Harvest will also be hosting a "Round Up" fundraiser throughout the day to benefit the Waukesha County Food Pantry. Customers will have the opportunity to round-up their grocery bill to the nearest dollar to benefit this great local cause.
Health Fair Features
~Good Harvest Booth, Raffles and Prize Wheel - stop at the Good Harvest table when you arrive and "Spin to Win" a free lunch or an awesome prize, plus, collect various samples of homeopathic supplements, beauty products and more!
~Local Food Samples - Several Local Wisconsin vendors will be here throughout the store with delicious product samples. Be sure and stop by to say "Hi" and get a taste from:
~Free Kid's Activities
• Face Painting with Prairie Hill Waldorf School
• Fall Harvest Banner Coloring
• Uptown Art: Free mini canvas art panels and rocks to paint. And small canvas to create for $5 & $10.
• Clothespin Fire Fly craft project
Have your kids ever wanted to see the inside of an ambulance or a Fire Engine? The Waukesha Fire Department will be here with either a Fire Engine or an ambulance from 11am-1pm to talk to you and your kids about any questions you have!
~Cookout Details
We're grilling up some mouth-watering delights from 11am – 2:30pm!
Come and enjoy a tasty sandwich on a Pretzilla Roll, a St. Pierre Brioche or Canyon Bakehouse Gluten Free Bun for just $3.25/ea!
• House-made Brats
• Organic Portabella Mushrooms
• All-Natural Beef Hot Dogs
Plus, for just $1.25/ea:
• Organic Corn Salad
• Potato Chips
• Soda
• Bottled Water
We will also have Local Beer and Kombucha on Tap!
~Location
The health fair will take place inside Good Harvest Market:
2205 Silvernail Road, Pewaukee
(About 1/4 mile west of Hwy T/Grandview)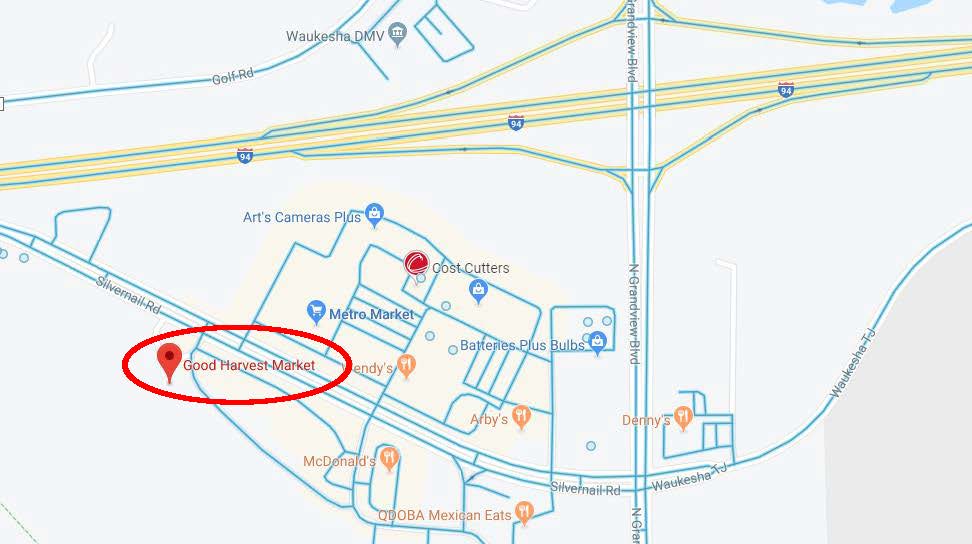 ~Health Fair Participants & Features
We have an exciting line up of local practitioners who are joining us this year! See below for details. All consults & services offered are FREE!
Integrative Dental Solutions - Dr. Supriya Shetty
Booth: Offering consultations regarding protocols for safe removal of mercury and heavy metals and the mouth and body connection.
About Integrative Dental: We are a holistically minded team of dental practitioners providing high quality natural, biological and cosmetic restorative dentistry. Our mission is to restore and maintain the natural health, function and beauty of our patients' mouths. We do so using the most advanced techniques, technologies and biocompatible materials known to dentistry in an environment that is relaxing, caring and safe. Most importantly, we strive to teach our patients how to maintain their health . Learn More Here
Profoundly Peaceful Massage & Yoga- Alissa Effland & Jen Kroll
Booth: Offering free wellness consultations and short demos of reiki.
About Profoundly Peaceful Massage: Offering Vibrational Sound Therapy, Craniosacral Therapy, Myofascial Release, Acupressure, Cupping, and Massage Learn More Here
4-Rivers Center for Well Being – Kathy Ginn
Booth: Offering pain management consultations.
About 4-Rivers Center for Well Being: We are a group of holistic oriented practitioners whose mission is to inspire, educate and empower our clients to embrace and follow the path toward healing and wholeness. We work together as a team to create optimal well-being for our clients, no matter where you are in your River of Life. Our core services include; acupuncture, massage therapy for every body, transformationalbodywork, oncology massage, end of life care, grief education and support, wellness coaching, financial coaching and Spiritual Direction. We also offer a variety of community education classes and spiritual retreats. Learn More Here
Rising Health Chiropractic Wellness – James Hauke
Booth: Offering free computer nerve analysis.
About Rising Health Chiropractic Wellness: Chiropractic methods focus on diagnosis and treatment of mechanical disorders of the musculoskeletal system, especially the spine, as these disorders affect general health via the nervous system. Our chiropractic treatment techniques involve manual therapy, especially manipulation of the spine, other joints, and soft tissues, but we also include exercises and health and lifestyle counseling. Learn More Here
Lake Country Health Center – Dr. Brandon Meye & Dr. Morgan Reimer
Booth: Offering free chiropractic consultations.
About Lake Country Health Center: Lake Country Health Center brings you the finest in personalized healthcare. With nearly 25 years experience, Dr. Daniel Murray, Dr. Brandon Meye, Dr. Morgan Reimer, and the integrated team of associates blend traditional chiropractic care with additional therapies like massage, nutrition and rehabilitative exercise to achieve excellent results. Learn More Here
Pewaukee Vision – Bradley Schuster, OD & Jason Procto, Owner/Optician
Booth: Offering demo of various eye health conditions and eye health risks of contact lens wear.
About Pewaukee Vision: Our team of eye doctors and eye care staff are here to care for all of your vision needs. We handle everything from adult and children's eye exams and hard-to-fit contact lenses, to eye emergencies, treatment of eye diseases and co-management of eye surgery such as LASIK. Learn More Here
Assisted Yoga – Elizabeth Webb
Booth: Offering a free demo or service focusing on the Sen Lines of the Sacred Ancient Thai Massage (Southern Style).
About Assisted Yoga: Elizabeth offers Thai Massage, Yoga Classes, Private Sessions and Retreats. that may include Ayurveda, Energy Work, Face Readings, Acro Yoga, Foot Massage, Yogic Eating, Yoga Laughs, Aromatherapy, Meditation and or Reiki. She also provides Tai Chi, Qi Gong and Yoga Therapy. Sessions identify and find causes in the body that create imbalance. Learn More Here
Lake Country Acupuncture – David Fife
Booth: Offering pulse & tongue diagnostics and specific acupressure techniques that can help reduce pain immediately.
About Lake Country Acupuncture: Our purpose is to help as many people as possible find whole body health and wellness naturally. We do this by finding the underlying source of imbalance and correcting the functional problem. We wish to educate the community about this process so people can, in turn, educate others. We want to be an integral part of helping our community thrive through the use of acupuncture, nutrition, exercise, and natural supplementation. The result will be sustained optimal health and well-being from the inside out. Learn More Here
Revitalize Physical Therapy – Brenda Heinecke
Booth: Offering demo of how pressure changes in the trunk causing pelvic floor disfunction. Free screenings for diastasis recti and free consultations.
About Revitalize Physical Therapy: Provides hands-on, one on-one, personalized care to help women live healthy, active lives. We are the experts for prenatal postpartum care, incontinence, low back pain and female sports injuries in the Milwaukee area. Learn More Here
Vibrant Health ~ Vibrant Life - Michele Feltz
Booth: Offering Bio-Individual (genetic) health history assessments.
About Vibrant Health Vibrant Life: Michele is a Board Certified Health Practitioner specializing in personalized nutrition based on the individuals needs. Addressing Celiac/Gluten Intolerance, Autoimmune & Thyroid Conditions, Gut Health, Skin Issues and more. Learn More Here