Holiday Table - Natural & Organic
---
It's that time of year again… crisp air, comfort food, holidays and giving thanks for all we have. I love to cook and it's just one of the ways I love to shower my family and friends with affection, so one of the things I know I am grateful for is knowing where my food comes. It makes me feel good to know that I'm offering up healthy, real food.
Turkey is the most popular item served during the holidays around here and it can be daunting to find the best turkey and the best deal out there. With so many options, my recommendation for the best tasting and healthiest option is to go All Natural or Organic in your selection. You'll find many conventional turkey brands will be labeled "All Natural", but that doesn't mean it's true. Unfortunately the FDA does not qualify what "all natural" means in food labeling. These turkeys are in many cases caged, eat genetically modified grain, never see the light of day, and are given hormones, antibiotics, and preservatives.
Have you ever wondered what the difference is between All Natural and Organic? The key difference is that organic turkeys are fed a Certified Organic diet and they have strict standards in how the animals are raised. Natural turkeys do not have the same strict standards which is why it's good to do your research. The Food Safety and Inspection Service (FSIS) of the USDA states "natural" is defined as: "a product containing no artificial ingredient or added color and is only minimally processed." Many brands that label their turkeys as Natural do not meet that definition because of the lack of required standards as shown in the attached chart.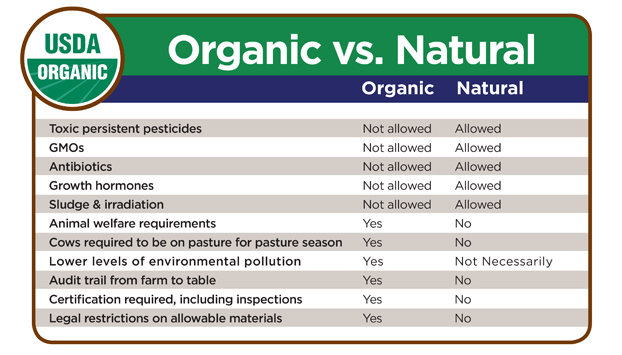 We at Good Harvest on the other hand have very strict standards about all of our Natural products so you can count on us to bring you what "All Natural" truly means in your turkey:
No growth hormones
No animal-by-products
No Antibiotics
We only work with farmers who follow these strict standards including free range and humane treatment of the animals.
This year our All Natural turkeys are coming from Ferndale Market. Their turkeys are grown naturally without the use of antibiotics or artificial growth promotants plus they enjoy constant access to a diet of grains, vitamins, and minerals from a local feed mill.
Our Organic turkeys are coming from Grateful Harvest, which is an exclusive brand of Albert's Organics. Their turkeys are fed organic grain, given access to the outdoors and never caged in tight quarters or given hormones or antibiotics.
We are currently taking orders for turkeys and other Holiday goodies up through November 21st. You can visit our Holiday Table in-store to place your order or call the café line at 262- 232-8866. Our holiday and catering menu can be found here.
---