The Cheese Diaries
---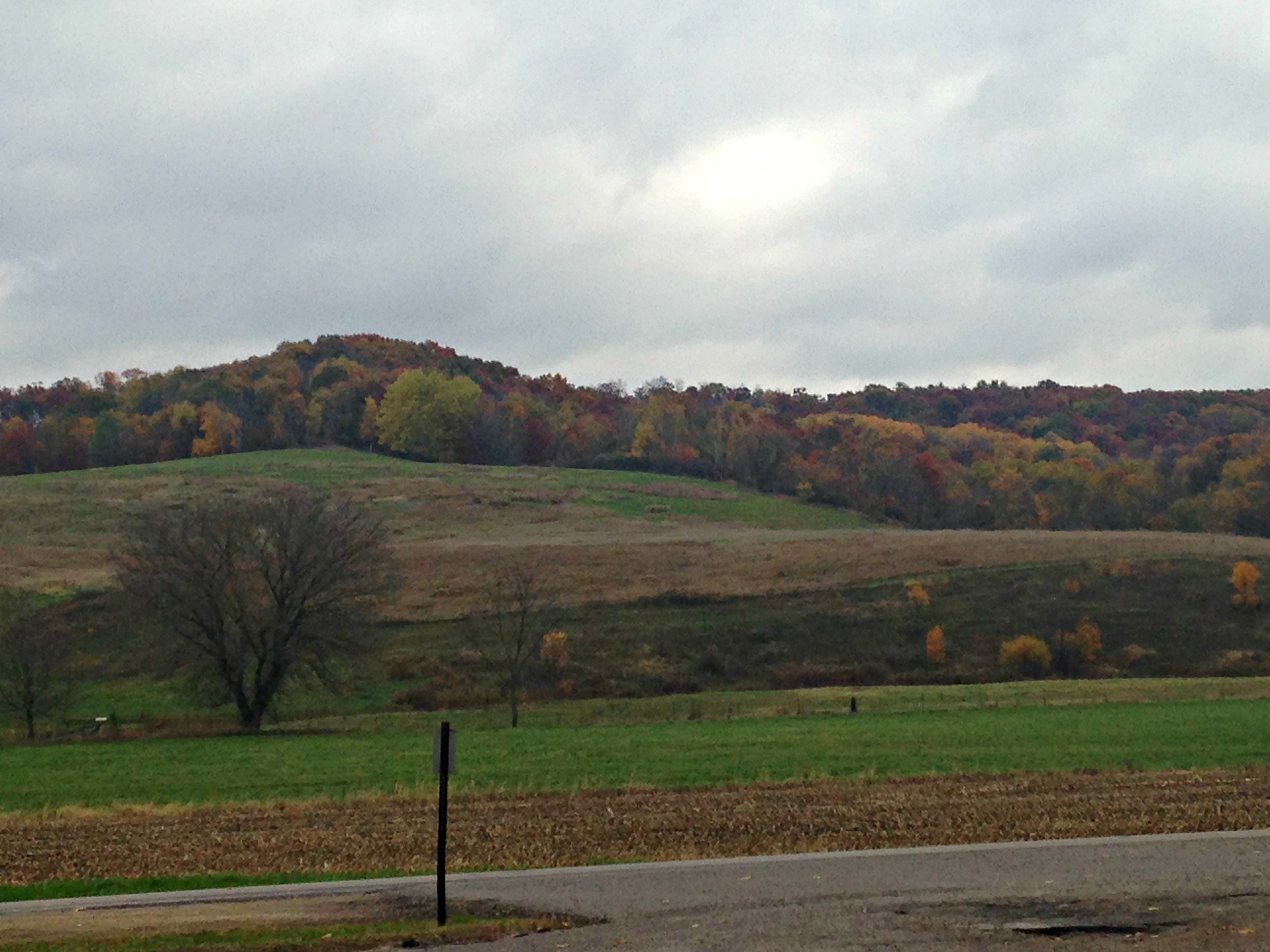 Wisconsin's beautiful Driftless Region,
outside Carr Valley in La Valle, WI
The morning opened in the rear view as the vehicle slipped along Interstate 94, leaving heavily traveled roads behind and disappearing into Wisconsin's Driftless Region. Traversing an area untouched by the goading lethargy of glaciers, funneling you along tree-laden hillsides bordering limestone bedrock sliced deep by lazy trout streams. Land wrought by the kin of those who first settled here. Earth worked by a new progeny of organic farmers, artisans of the ancient traditions breathing life into our modern food systems. We were on our way to the treasure of this area, the heart of cheese making in southwestern Wisconsin.
Rock Cheese Company - Madison,WI
We arrived at Rock Cheese in Madison as the sun crept over the roof tops of warehouses in a quiet industrial neighborhood. The unassuming building was the inception of our tours with a walk through of their stocked inventory in a pristine facility holding thousands of pounds of Wisconsin's best cheeses. Steve Berg, our cheese guide and guru for the day, was the perfect host for such an occasion. A local, he got his start at a young age working in the Cedar Grove facility we were voyaging to see. We piled into the Rock-mobile and hit the open road in search of the perfect curd and story to tell.
Cedar Grove Cheese Factory - Plain, WI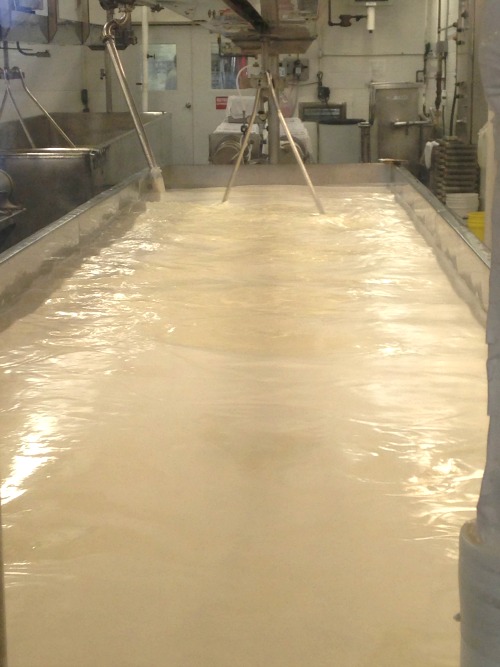 A 20,000 gallon vat of fresh
milk at Cedar Grove facility.
Nestled within rolling hills and between clear gurgling brooks, Cedar Grove Cheese is a small family owned factory that has operated for over 125 years. Located in Plain, Cedar Grove has six Wisconsin licensed cheese makers whose passion for their art is exemplified in the artisan style cheeses they produce. While Cedar Grove Cheese preserves old-world Wisconsin traditions, it is at the forefront of organic production, grass-based dairy promotion, water treatment, and product innovation.
Their pioneering use of waste water known as The Living Machine is a working ecosystem. Mimicking the water cleaning power of wetlands using microbes and hydrophilic plants, clean water is returned to Honey Creek after a brief stay in a lagoon. This approach not only cleans the water but provides new wetland habitats for local wildlife.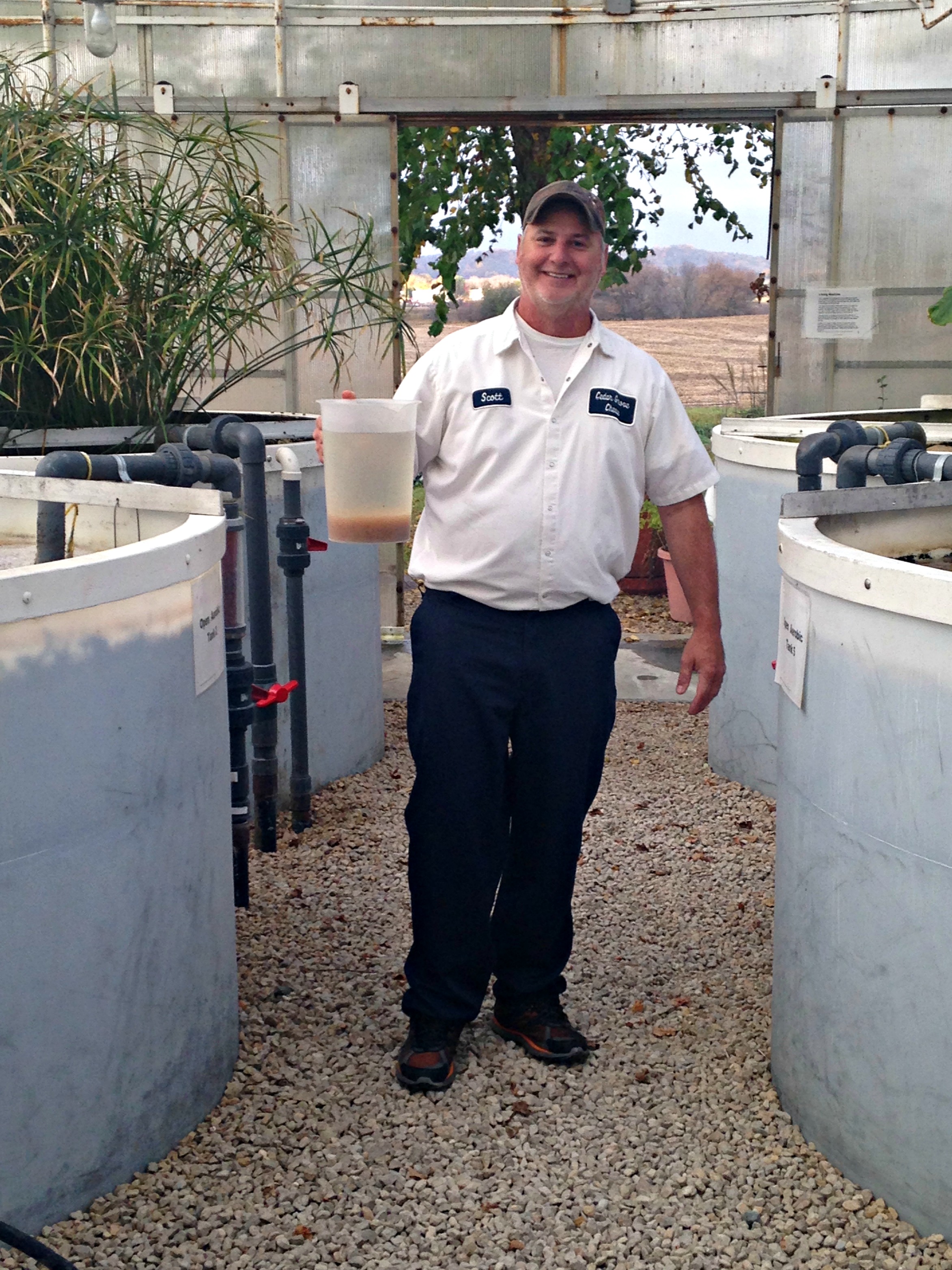 Cheesemaker & Living Machine
Keeper, Scott, at Cedar Grove .
More About the Living Machine­™
The Living Machine™ is comprised of 10 tanks, each holding approximately 2600 gallons of water. The tanks utilize gravity to move waste water through them. Water moves through closed aerobic tanks where microbes including yeast, ciliates, rotifers, nematodes and other aquatic invertebrates. From there the water flows into open aerobic tanks where hydrophilic plants trail their roots down into the water several feet where bacteria and other microbes cling to the roots, increasing the diversity and resilience of the microbial populations in the system. The plants absorb nutrients that aid in their growth, which are mostly tropical wetland plants such as; papyrus, taro, calla lilies, lizard's tail, and elephant ear. Using a natural and efficient process to treat taste water, The Living Machine is the first of its kind in a cheese plant helping Cedar Grove Cheese makers remember that what goes down the drain matters.
Carr Valley Cheese Factory - La Valle, WI
After watching the process of transformation from milk , to curd and whey, to knitted curds being pressed into the more familiar blocks and wheels, we cozied into a tasting of cheeses ranging from sheep to water buffalo. Drunk on cheese and humming from the glee of meeting everyone from the cheese makers to the microbes we slid off on our way to the next stop, the prodigious and world famous Carr Valley Cheese Co.
Owned and operated by the Cook family, Carr Valley Cheese got its start in 1902. Today, fourth-generation owner Sid Cook is one of a small handful of certified Master Cheesemakers in the United States. Having won more top national and international awards than any other cheesemaker in North America, he got his cheesemaking license at the tender age of 16, and now owns and operates four cheese plants and seven retail cheese stores throughout Wisconsin. With a team of cheesemakers that are undoubtedly the best in the business, they have over 220 years of experience crafting the world's finest cheddars and signature American Originals.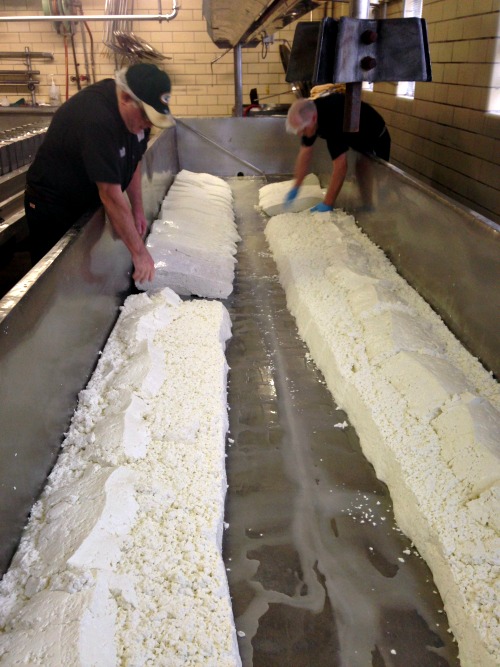 Carr Valley's most experienced
cheesemakers in action.
Using cow, goat, and sheep milks, Carr Valley produces more than 50 original varieties. Carr Valley crafts cheese the old-fashioned way, by hand, the goal is producing high-quality cheese with outstanding flavor. In the past five years alone, Carr Valley cheeses have won more than 400 top awards in U.S. and international competitions. Many of these have been won by Sid's one-of-a-kind American Originals - artisan cheeses you won't find made anywhere else in the world.
Suited up in paper gowns, hair nets, and booties we were escorted through the cheese making room by Beth Wyttenbach, the National Sales Director for Carr Valley. We were able to appreciate the process of cheesemaking from the separation of curd and whey to the hand pressed wheels being aged and readied for wax dipping before being shipped from coast to coast.
Lauren, Mary, and Beth on the Carr Valley
factory floor.
Living the Wisconsin dream, we ate squeaky curds straight from the sorting table, an array of specialty cheese, jams, and snacks until we were sufficiently aglow with the buzz of turophilia. We rounded out this magical day of touring with a few obligatory snapshots of ourselves posing with the resident cow bench and picturesque autumnal landscapes before being escorted back to Rock Cheese and on our way homeward.
Cheesemaking: A Quick Overview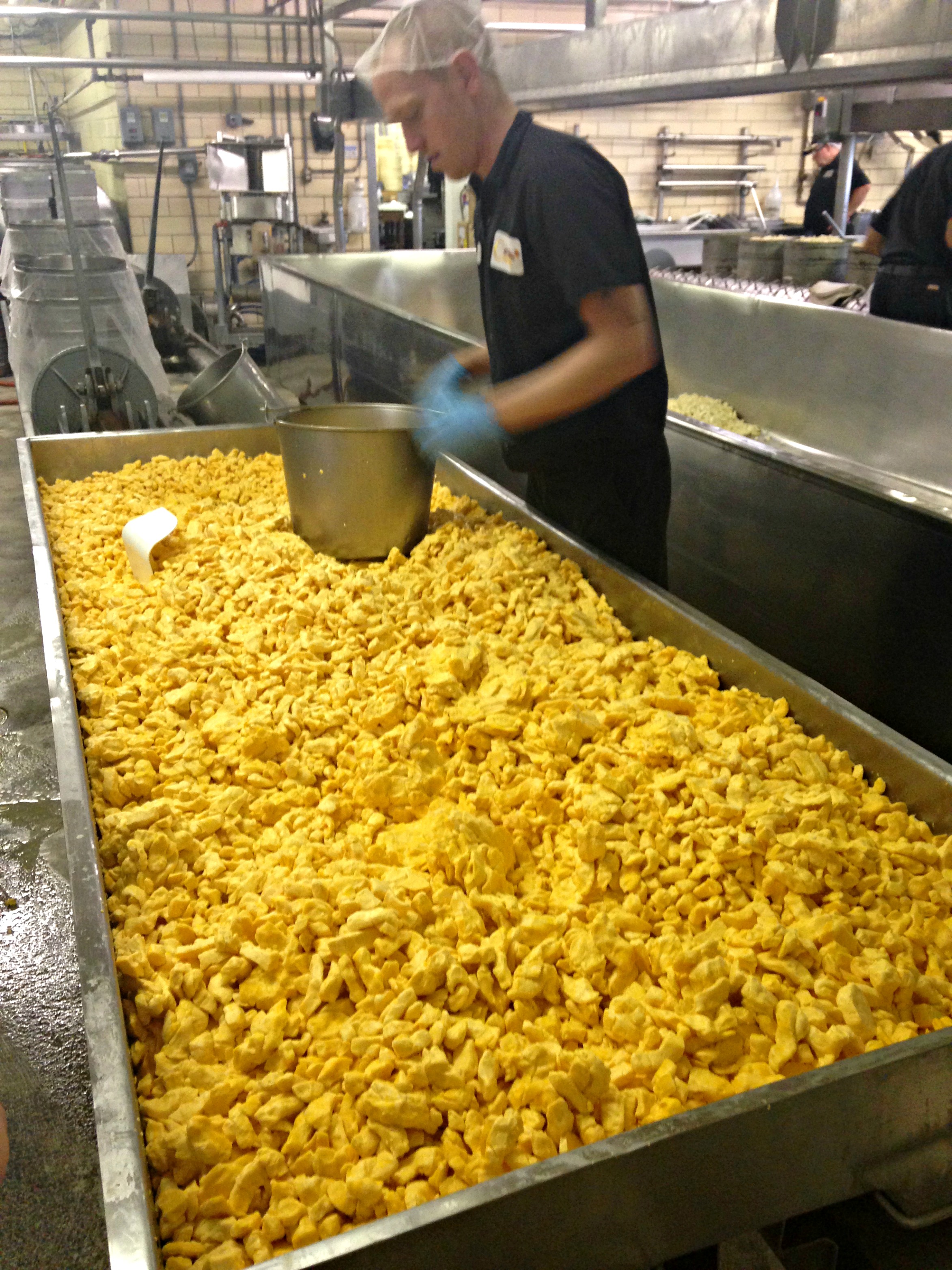 A cheesemaker massaging fresh
curds at Carr Valley.
Cheese making starts with the delivery of fresh milk. The milk is heated and a coagulant, rennet which is commonly made with microbes or root vegetable extracts, is added to begin separating the curd from the whey. While the curd is collected the whey is drained off. Once the curd is collected it is cut to the proper size for each different type of cheese made and then formed and pressed into wheels, blocks, or truckles. From there each different type of cheese has a unique aging or drying process it goes through to get it's common characteristics. Many of the different processes of cheese are regulated to maintain these signature unique qualities.
To learn more about the traditional process of artisanal cheese making, follow this link to Cedar Grove's website!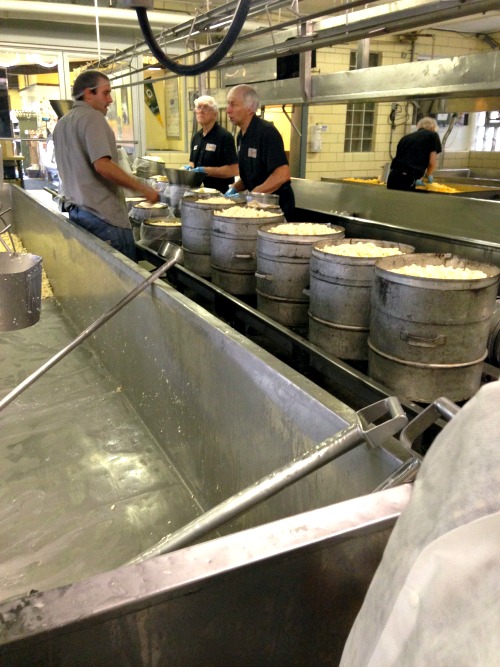 Cheesemakers filling molds for
pressing their world famous
Mammoth Cheddar.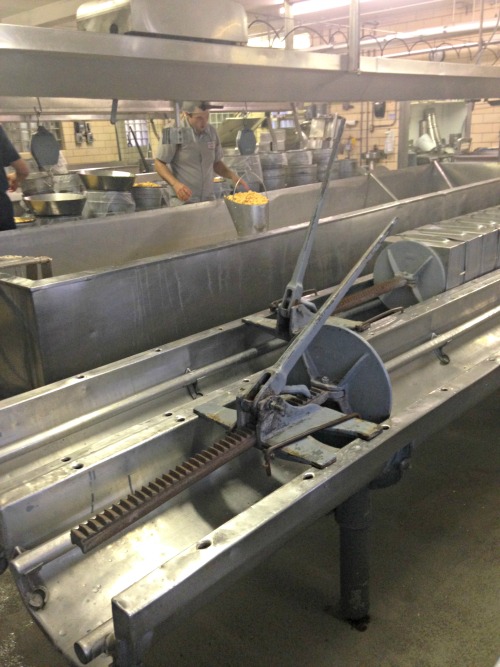 Cheese is pressed by hand at
Carr Valley.
---